By arrowup

Post Views: 158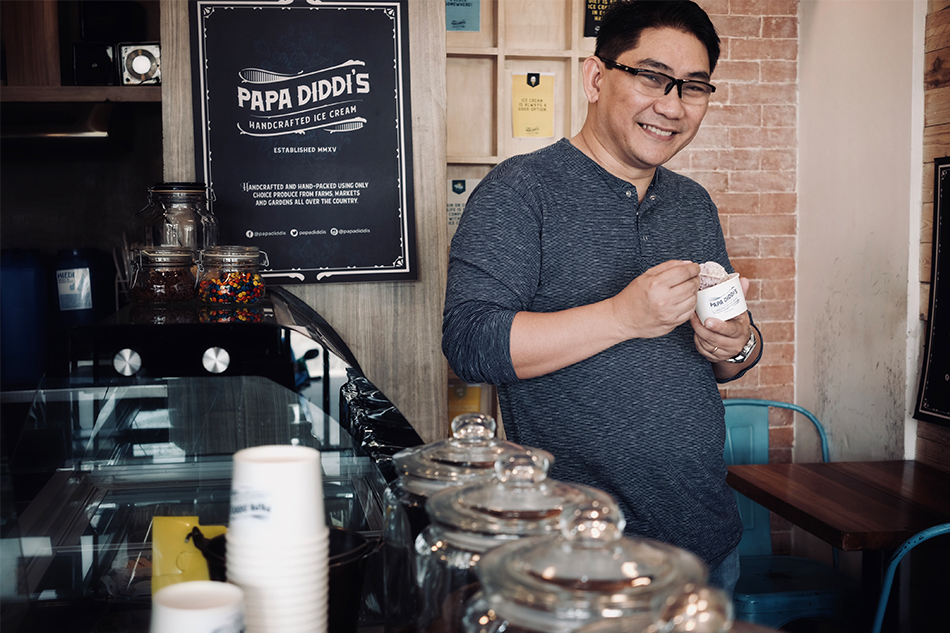 Photograph by Chris ClementeFOOD & DRINKFEATURES
Family love is the not-so-secret ingredient to this ice cream maker's hand-crafted flavors
At Papa Diddi's, a father's legacy, a miraculous healing, and a special affinity for local farmers spurred marketeer Paul Perez to create his deeply personal, family-inspired ice cream brand. By Ginny Mata | Sep 20 2019 Facebook twitter from ANCX
It is 4 am, and Paul Perez is crushing several kilos of barako coffee beans by hand. The night before, his mixer had texted him that she was sick, so he had to cover for her so their ice cream production wouldn't fall behind. The loud bangingsound awakened his wife, Sigrid, from deep sleep. She herself had had another long day, taking care of their eight (yes, EIGHT) children who range from ages 18 to 9, as well as their beloved pet dog, Nueve.
Sigrid goes downstairs, and offers to help her husband pummel the coffee beans into a fine powder. After 30 seconds of doing this, her arms tired from all that pounding, Sigrid says, in utter exasperation, "There MUST be a better and faster way of doing this! We have a grinder! Why can't we use that?"
The mad ice cream scientist
Perez laughs at the memory of that early morning, as it illustrates just how his passion and commitment to making hand-crafted ice cream can sometimes border on madness. He explains, "Our ice creams are (literally) hand-crafted for a reason. It's our salute to the great work of farmers, to those who work tirelessly with their hands to provide us with food and sustenance." Because where else would they get ingredients for making ice cream except from the farmers themselves? From the dairy farmers who are devoted to producing fresh carabao's milk every day, to the fruits (chesca, langka, mango, ginger, etc.) they use, and even edible flowers like sampaguita, hibiscus, and blue butterfly pea flowers, it's no wonder that from the very outset, Perez decided to use only local, natural ingredients for his ice cream flavors. "It's a natural limitation that we set for ourselves," he says, "yet we can still be creative because of, and not in spite of, these set parameters."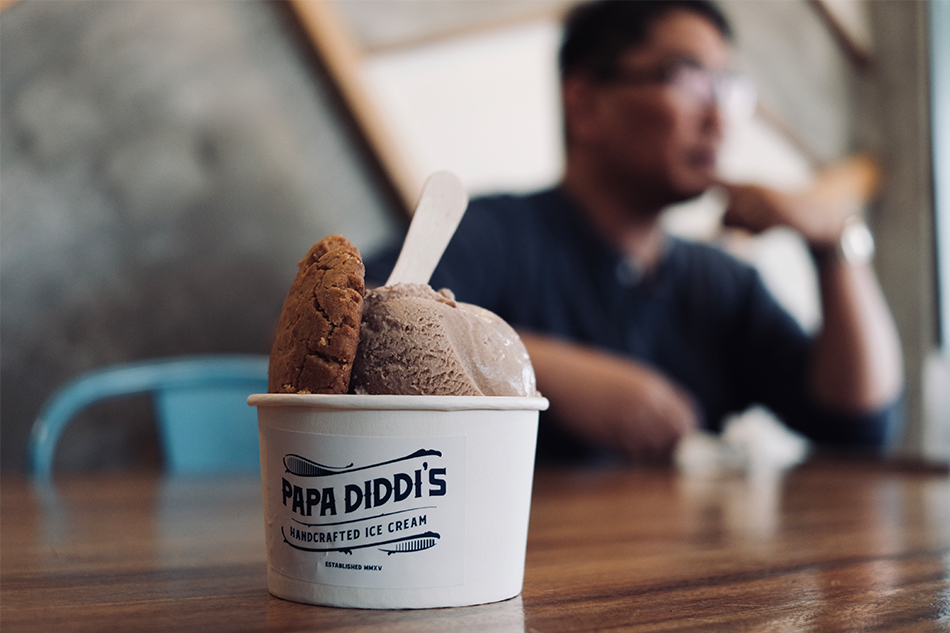 The noble patriarch
Papa Diddi's is, in fact, a tribute to the Perez patriarch, Paul's father, Atty. Pedro "Diddi" Perez, after whom their family business is named. In their original store on Maginhawa Street in Quezon City, Papa Diddi's law books line the shelves, and a framed photo of him is nestled between his encyclopedias and his old typewriter.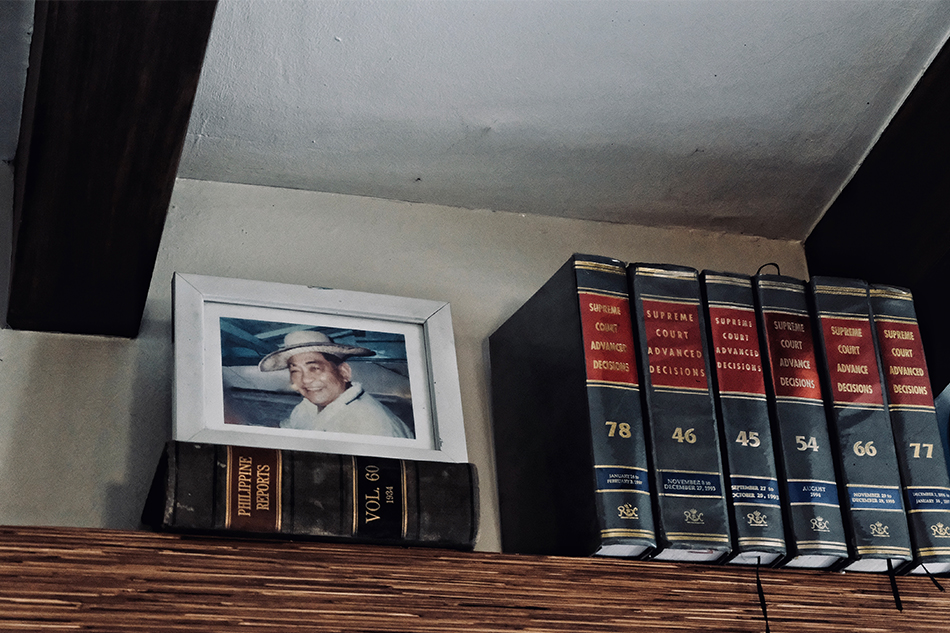 Born and raised in Tuguegarao, Cagayan Valley, the hottest province in the Philippines, Papa Diddi loved ice cream. (It was the 1950's too, when ordinary folk did not have freezers in their homes yet, so most people still considered ice cream to be a rare treat.) Sometime in the 1970's, one hot summer, a relative from abroad sent over a hand-cranked ice cream machine, or garafinera, and Papa Diddi immediately started making ice cream for his family, while "employing" his children in the tedious work of cranking out the ice cream by hand. (Sound familiar?) The first flavor he came up with was mango-ginger, which Perez's stores carry to this very day.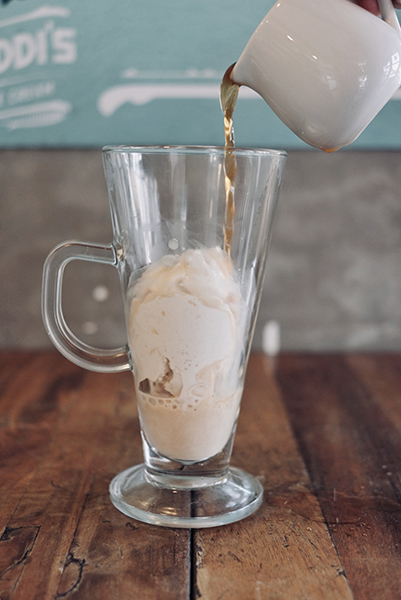 As a civil and criminal lawyer, Papa Diddi's life's work lay in fighting for the rights of farmers. Educated by the Jesuits in Ateneo de Cagayan University on full scholarship, the good attorney truly had a strong sense of social responsibility. "He didn't stop working until his last breath," shares Perez, "so much so that he was on his way to court when he had a stroke in 2010."
The miracle boy
Five years before that, Perez's eldest son Seve was diagnosed with Acute Lymphoblastic Leukemia. He was only five years old then. "That turned our whole lives around," says Perez, who had been burning the candle at both ends with his work as a GM for Ogilvy Philippines. Prior to Seve's diagnosis, Paul was always going out of the country, at least twice or thrice every month, for work. That left precious little time for the people who mattered to the most to him: his family. "As part of my deal with God, I promised that if Seve survived, I would spend more time with my family," says Perez.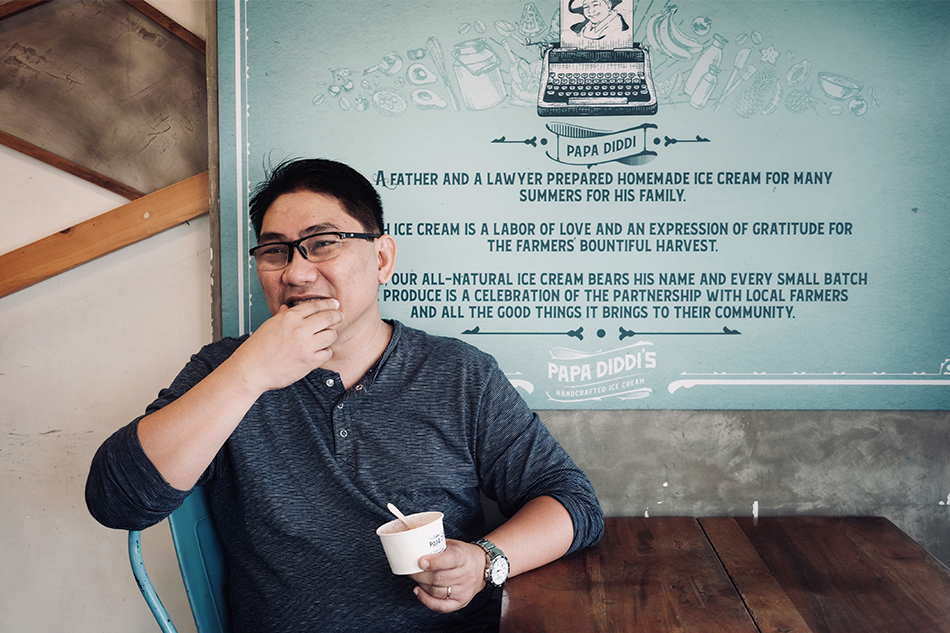 "By 2015, Seve had taken a turn for the worst, and fell into coma. The doctors actually told us that we were going to lose him. We prayed to (the now Blessed) Bishop Alvaro del Portillo for a miracle … and lo and behold, we were given that miracle! Seve opened his eyes, and the very first thing he said was: 'Jesus told me to go home, and play,'" recounts Perez. "Right after he said that, within 24 to 48 hours, most of Seve's symptoms disappeared. It was then that I went straight to my boss and resigned."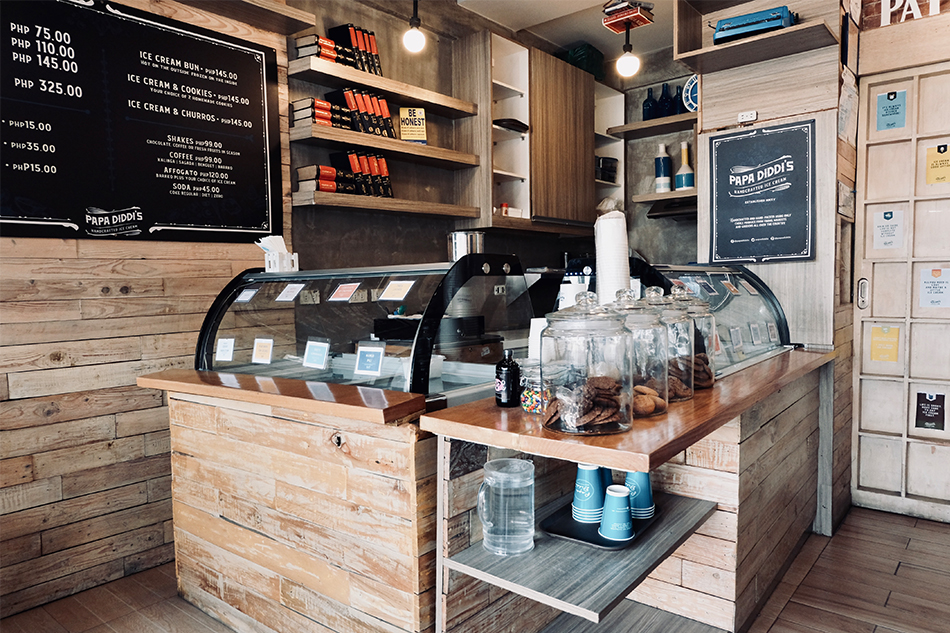 The light bulb moment
Why ice cream? It seems to be the leitmotif, the recurring theme that connects Perez to his father, to his children with Sigrid, and to the farmers his father had spent this life defending. Brought on by his father's passing, and his son's miraculous healing—because isn't life and death just two sides of the same coin?—Paul and Sigrid Perez found themselves making ice cream with their kids on a regular basis. "We're very active parents, and we just wanted to spend more time together as a family," says Perez, "and we were also consuming so much good commercial ice cream as a family, so it just seemed more economical to make our own."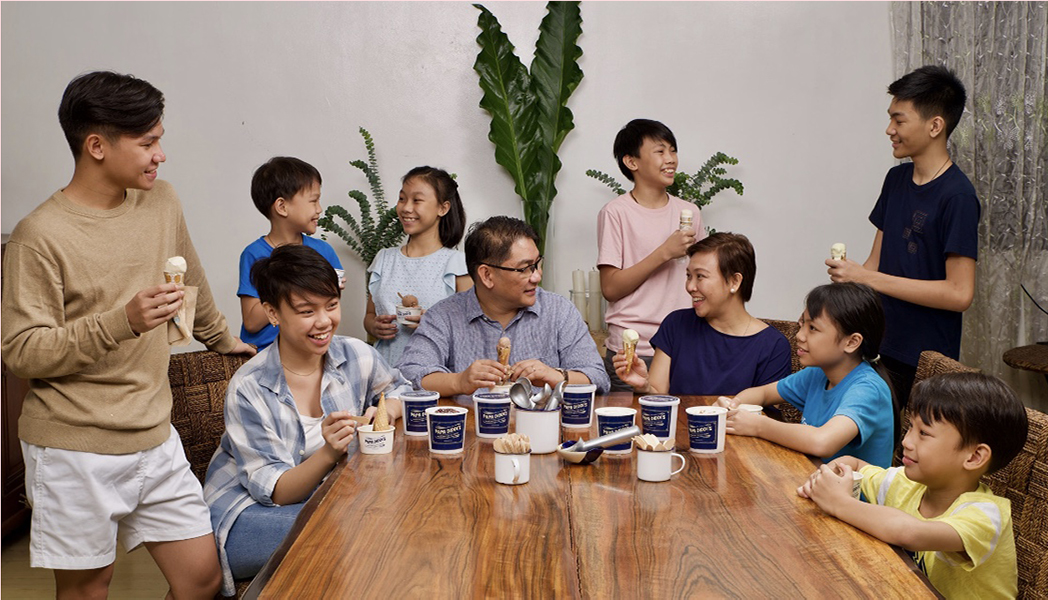 Before they knew it, people from the food industry were already ordering from them. Knowing that he had to learn more about this craft, Paul took up intensive ice cream making studies at Penn State University in the United States. To further up his game, he also recently just finished a short course in ice cream making at Scoop School in St. Louis County, Missouri this August 2019. (In a class full of American citizens, he was the only Asian student there.)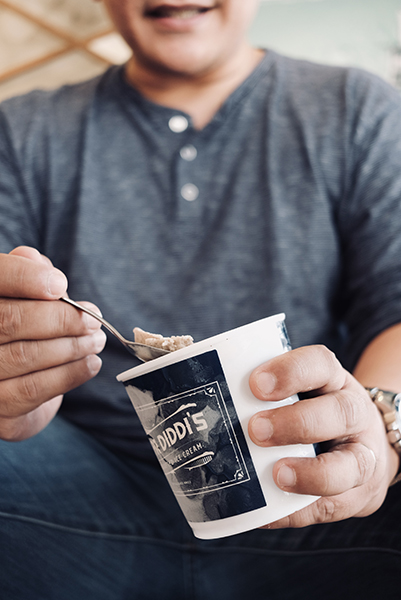 The family that makes (and eats) ice cream together, stays together
Papa Diddi's is truly a family affair: Perez formulates the flavors, Sigrid helps him choose the ingredients, the bigger kids help them measure, while the younger children do the mixing. Perez's ice cream muses are, of course, his wife, and his children: this is how he shows them his love and appreciation for them.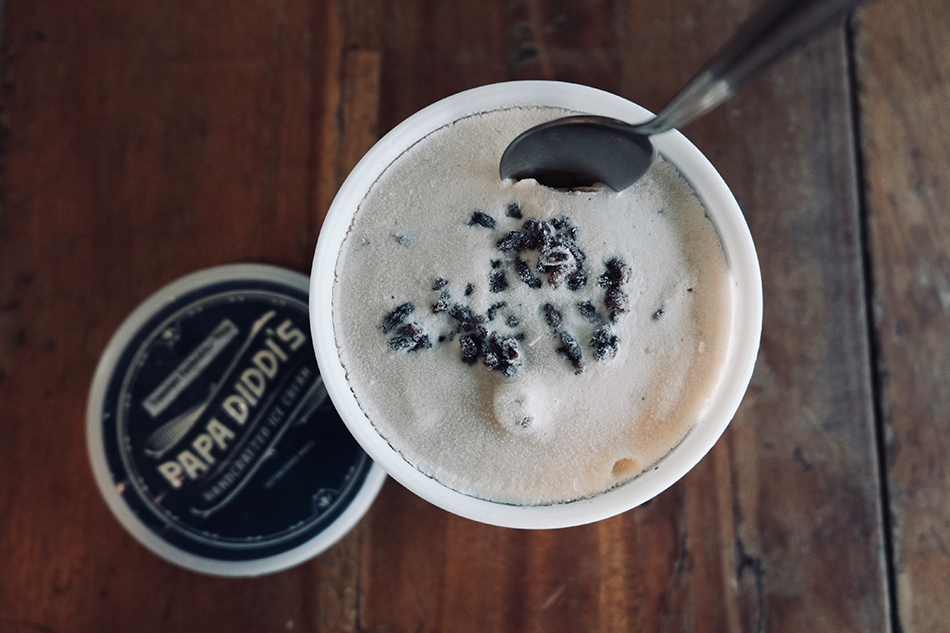 For his eldest daughter Anya, who has just moved out of the house to be nearer her senior high school, and who will eventually go on to study animation in Hong Kong for college, Paul crafted Turon de Hija, as turon is her favorite dessert of all time. For Seve, he made My Darkest Chocolate, as he is the only one among their children who likes the bitter taste of dark chocolate. For Sabin, it had to be a banana with peanut butter jelly flavor, because he's so pilyo, "like a monkey jumping on the bed." For Santi, Perez made Roasted Sesame ice cream, because "that son of mine was always experimental with his food"; for his cheerful daughter Rocio, Bubblegum ice cream, as "she's always sweet"; for Amaya, Starry Surprise, a star anise-flavored ice cream, "because she's always surprising us with her words and actions." For Pio, they made his favorite flavor, Cookies and Cream; and for Sal, who would always request carabao's milk as pasalubong from his grandmother in Cagayan Valley, Paul created Dulce Gato.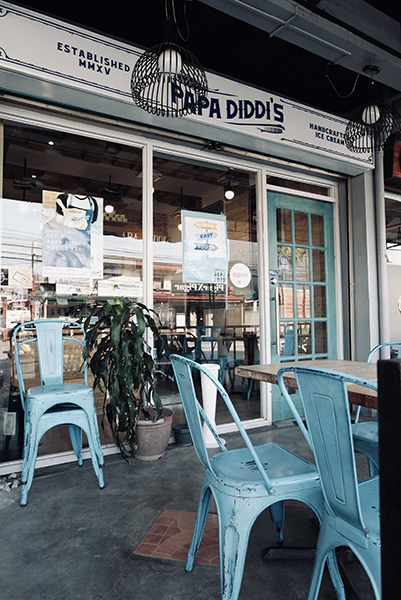 While Pappa Diddi's original branch is still in Maginhawa Street, they have also opened new stores in SM City North EDSA Annex and SM City Southmall. They also recently debuted a subscription-based ice cream service called Papa Diddi's Pint Club, where subscribers are given two pints of Perez's strictly exclusive ice cream flavors every month delivered to their homes.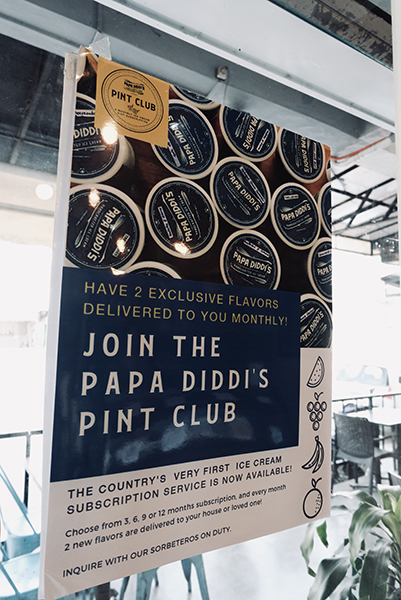 Photographs by Chris Clemente
Reference : https://news.abs-cbn.com/ancx/food-drink/features/09/20/19/family-love-is-the-not-so-secret-ingredient-to-this-ice-cream-makers-hand-crafted-flavors?fbclid=IwAR11-KS58wuDfDOaDGW3iKarH3czxs1wb20J4Dqgqz1qa2A1p9YYSq4q4vg